Finance available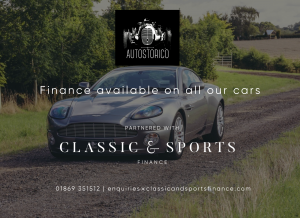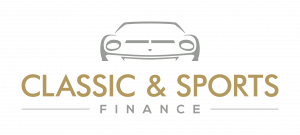 We have a full range of diverse and competitive finance products available on all of our cars through our partnership with Classic & Sports Finance. With the ability to provide experienced advice on any age of car, our finance partner has access to all levels of funding including balloon payments and interest only facilities. No age or mileage restrictions and fully Regulated FCA compliant products ensure you have a suitable finance agreement for your purchase and the peace of mind that you have received the correct and most suitable advice. For any questions relating to any financial products or how to finance your car they welcome your call on 01869 351512 or use the finance button to make an email enquiry.
Classic & Sports Finance
Established in 1999, Classic & Sports Finance pioneered the funding of classic, sports, vintage and racing cars in the UK. We are able to provide flexible funding options for almost any car or asset, utilising our panel of private banks and lenders. No one else in the finance sector understands classic and collector cars like we do.
Finance isn't always easy to understand so we do all we can to make it easy. Our small and efficient team offer a personal and boutique service, making sure your needs are fully understood and your expectations exceeded. We operate with total transparency and make the entire process as simple as possible for you. Beyond finance we offer expert advice, market insight, host events and support our industry by sponsoring motorsport, car clubs and events. We are more than just finance.
Classic
Our classic car finance products are flexible to your own specific needs and requirements. Our process ensures you are advised correctly and that your finance package is one that suits you. We pride ourselves on an efficient service resulting in quick decisions and fast payout. There is no age limit of cars we can finance and through our network of approved dealers and specialists, we ensure you are buying the right car from the right people.
Sports
Our funding packages cover all ages and types of cars including brand new models. We have strong links with not only specialist dealers but also with franchised main dealer networks with the ability to offer a wide variety of funding options. We have absolutely no age restriction on the financing of cars and can offer realistic deposits, two- to five-year agreements, with or without balloons payments.
Vintage
This small and niche sector of the market is crucially important to the historic car movement as this is where as a motoring nation, our roots are. Few understand or appreciate pre-war cars however we have been dealing with them for three decades and we have a large network or dealers and suppliers to support you through every step of ownership. With dozens of events and rallies, the Vintage and Veteran car scene is as strong as it has ever been.
Motorsport
We have been funding modern and historic race and rally cars since 1999 and understand motorsport better than anyone. We also fund the purchase of trailers, transporters and any pit or garage equipment you may need to maintain your race cars and keep you on track. Our specialist private banks and lenders work with us to create competitive and uncomplicated finance options to assist in purchasing a race car or rally car.
Asset
At Classic & Sports Finance, we are well known for our work with financing classic, collector cars… but did you know we also offer asset finance for a variety of investments? We can provide finance for just about any purchase or offer capital release against any assets you may already own. Marine, aviation, motorcycles, jewellery, machinery or equipment, we can take care of it all.
See Reviews link – https://uk.trustpilot.com/review/classicandsportsfinance.com
Subscribe link – https://classicandsportsfinance.com/about-us/newsletter/
Contact Details
Telephone: 01869 351512
Email: enquiries@classicandsportsfinance.com
Address: Classic & Sports Finance, Kirtlington Business Centre, Kirtlington, Oxfordshire, OX5 3JA